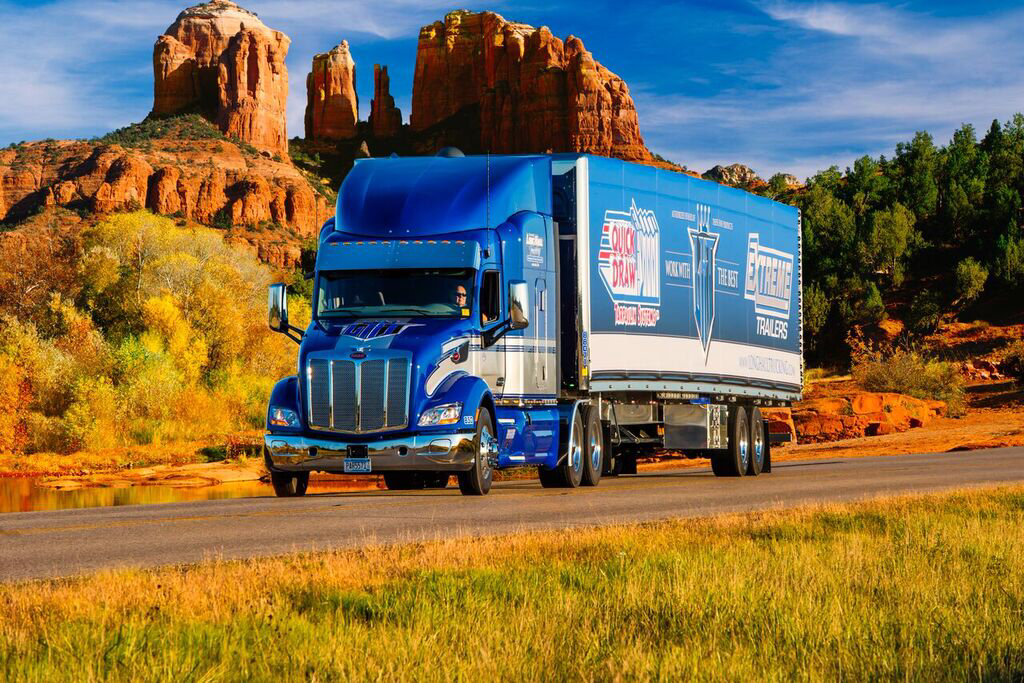 Congratulations Jan Christensen, 2017 Harry Slimmer Leadership Award Winner! Congratulations to the 2017 Harry Slimmer award winner Jan "Superman" Christensen! Jan is an incredible driver and has been our King of the Road for 4 consecutive years. More importantly, he is reliable, professional, a great teammate and true image of what the Harry Slimmer Leadership Award stands for! Harry is a Long Haul legend and was the first company driver to sign with LHT. His passion for excellence in both driving and customer service set the standard in what we look for in a driver today. Winning this prestigious award means you are someone that embodies excellent customer service, a passion for our team and someone we can always count on to come through in the clutch! Some of our previous winners include Craig Minty, Ellen Hoxsie and Jeff Bolstad, which illustrates the elite company that Jan is joining in winning this award! As a company, this award means a great deal to us and we feel blessed to have such a deep pool of first class drivers that are competing for it every year! Congratulations Jan on winning the 2017 Harry Slimmer Leadership Award and thank you to all Long Haul drivers in working every day to help maintain the elite reputation of a trucking company that Long Haul legends like Harry helped establish from the beginning!
Don't forget to update permit books!
It is permit book renewal season again. As in past years, all drivers will be required to come into the Albertville office prior to December 31, 2017 to get their permit book updated and sign the required annual forms. 4th quarter training will also be a part of this years permit book updates. Jessica Harff will be conducting this training course and it will be offered Monday through Friday at 8:00 AM, 11:00AM and 2:00 PM. This training course is about 30 minutes in length so please plan accordingly.
Please stop by and see any member of the Safety Department at your earliest convenience to get your permit book updated. You will need to bring in your permit book and your Peoplenet Instruction Book.
Treat Your Tanks!
As winter sets in and temperatures continue to drop, it's important to keep a close eye on fuel levels and the preventative care required to avoid fuel tanks from freezing. Most fuel pumps in northern states will have treated fuel, but if you're fueling in the south there's a strong likelihood that the fuel will not be conditioned to handle colder temps, meaning it would be smart to treat your tanks with additives and gels to prevent them from getting too cold and freezing up. Remember it's important to do the little things like treating your tanks right in order to keep rolling strong all winter long!
Three Keys for the Month
1) Congratulations to Jan Christensen on winning the 2017 Harry Slimmer Leadership award! We couldn't be more proud to have a driver like Jan and all of the other great members of our fleet as a part of the Long Haul Family!
2) Don't forget to get through corporate sooner than later in order to ensure your permit book is up to code and ready for 2018!
3) Please remove any mounted decorations from your windshield that could lead to tickets from being pulled over or going through a weigh station. We work hard for our dollars and don't need to compromise them over preventable citations such as this!
The Bottom Line:
"Safety tips to keep our money in our wallets, not paying fines"
Congratulations and thank you to all Long Haul Drivers and team members that have worked hard in making 2017 an outstanding year for our company! We represent one of the most elite fleets in the nation and deserve to hold on to the money we work hard for .rather than jeopardize it with fines or citations. Recently, one of our team members received a ticket for having windshield mounted decorations and we want to use this incident as a reminder for all of our drivers that we shouldn't have any unnecessary items mounted to our windshield while moving down the roadway. We understand that these laws can change from state to state, but as a general rule of practice to ensure we aren't putting ourselves in jeopardy of receiving a ticket, the safest bet is to remove items that are mounted from your windshield and keep a clear vision of the road!