Driving Culture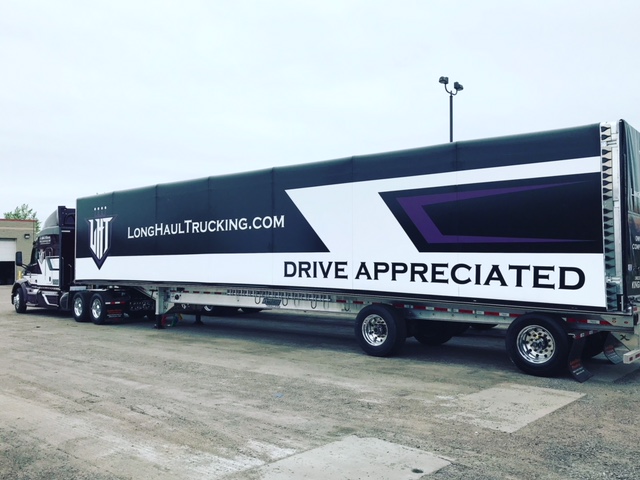 For years, Long Haul has used trailer wraps as a means of advertising and marketing, both for their clients, drivers and themselves. We've seen numerous iconic designs from the famous Louisville Show Trucks, Driver Recruiting, and an embodiment of numerous customer logos and graphics. Most recently from the recruiting side, Long Haul has chosen to save this valuable marketing space for something more important than flashy tag lines or earning potentials and is instead using the space to portray an image of company culture and what it means to be a member of the team.
"The scope of our campaign, the Drive Campaign, is to create an illustration of value, ethics and opportunity for any potential candidates looking to join our team." stated Long Haul's Director of Marketing, Anthony Book. "We believe that for our business to continue finding success and prosper, it begins with treating our drivers and employees well. Equally important to treating our people well fiscally is providing a culture that helps each individual maximize their potential." Long Haul's campaign places an emphasis on respect, value and empowerment which is spelled out literally on the sides of these brand-new trailers.
Long Haul VP, Jason Michels also offered his input on what the Drive Campaign stands for and how it sets Long Haul apart from other trucking companies. "We always want to be on the forefront, and right now we believe company culture is second to none. It's not a secret that right now the demand for drivers heavily outweighs the supply, so we're arming ourselves with every tool possible to be the number one option for any driver on the market." With a company so focused on treating people the right way, the financials have followed suit. Long Haul as a company continues to flourish and has seen 800% growth since being sold from its founder, John (JD) Daniels to the employees in 2014. "Since we've transitioned to an ESOP, and each of our employees has adopted the "ownership" mentality, we've seen a remarkable amount of success. This is in large part due to our culture and the desire our team has to do well for their teammates, and themselves." said Michels.
Institutionally it appears than Long Haul Trucking is setting themselves apart from the competition through treating people the right way and creating a culture that enables each employee an avenue to maximize their full potential. Whether it be relationships with their drivers, employees or customers, Long Haul is committed to doing well for themselves, their customers and the culture of their industry.