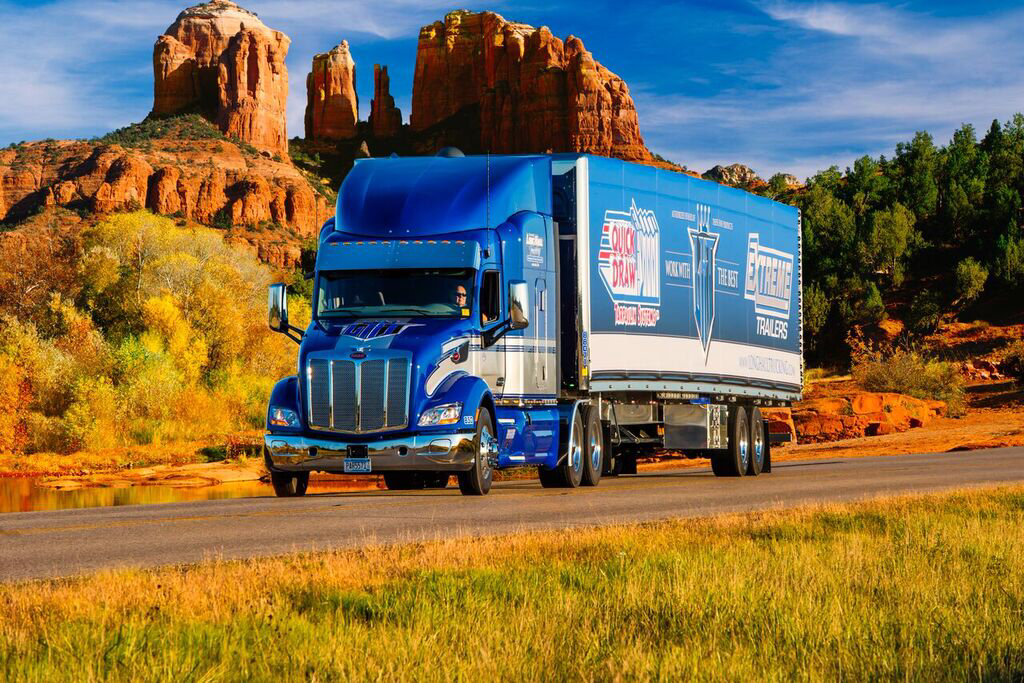 Booming Market Means More Freight Options
With a record setting first quarter in the books, along with a great month of April and busy customer base, our team couldn't be more excited to see where 2018 takes us. There are a number of factors contributing to the freight boom we've experienced over the past several months, with market analysis illustrating now that there are upwards of 100 available flatbed loads per truck. This rise in demand has lead to a large part of our success as a company and is keeping us as busy as we've ever been. Most importantly, however, is that as our demand continues to rise, we remain loyal to the promises and customers we've made along our path to success. Chasing a fast pay day is not the road to long term success and we will always remain committed to fulling our role within our customers supply chain in every way possible. Over the past few months our company is proud to report that non customer freight (broker / 3PL) has been accepted and hauled at a record low level which we believe illustrates the passion our team has to ensure that we stick by our customer's side throughout these busy times and ensure we all do well together!.
Pilot Flying J Promotion
Our team takes pride in building long lasting relationships with all of our customers, drivers and business partners alike. Amongst these relationships are Pilot, Flying J truck stops.
As a special thank you to all of the amazing drivers at Long Haul Trucking, Pilot and Flying J are offering an exclusive benefit program at all of their facilities!
From 4/15/2018 until 6/30/2018 drivers can earn 3 reward points by using your my rewards card at any Pilot or Flying J location. Pilot and Flying J offer over 70,000 parking spaces, the most variety of food choices on the road and newly remodeled showers and driver lounges!
Don't miss your opportunity to earn these benefits, and offer some business to a valued partner at all Pilot and Flying J locations around the country!
Watch Those CARBS!
CARB enforcement within the state of California is at an all time high and it is absolutely critical that we follow these regulations in order to avoid major fines. Companies that hire on or dispatch trucks within California that are not in compliance with state law are seeing fines upwards of $52,500 – $100,000. CARB regulations insist that any diesel truck that doesn't have an engine with a model year 2010 or newer must be retrofitted with soot filters. CARB compliance is a big part of how California intends to keep a cleaner environment with fewer emissions and these rules are VERY strict. If you have any questions on whether or not your truck is CARB compliant don't hesitate to ask dispatch or safety immediately!
Three Keys for the Month
1) Great work again to every driver in helping us make this year so far one to be proud of! Thank you to all of our valued customers that have allowed us to be continuous support in their supply chain!
2) Don't miss your chance to earn more rewards by visiting Flying J and Pilot truck stops before 6/30/2018
3) CARB compliance is a critical item to focus on especially for any truck venturing to California. If you have any questions regarding your truck and compliance don't hesitate to reach out to safety or dispatch!
The Bottom Line:
"Safety tips to keep our money in our wallets, not paying fines"
Thank you again to all of our outstanding drivers in making the beginning of 2018 a time for us all to be proud of. As we continue to rise in demand and gain more business, we must still remain detail oriented on doing the little things right in order to remain free of violations or citations. In a recent listing of top roadside inspection violations for 2017, over axel by 1 – 2500 lbs. was #3 in the miscellaneous category, inspectors gave out 77,917 violations for this. This statistic illustrates how small the margin for error is when scaling out and a great reminder of how important it is that we always check our gauges and air bags! Thanks again to every Long Haul driver and employee for your continued focus on safety while staying free of citations and violations!