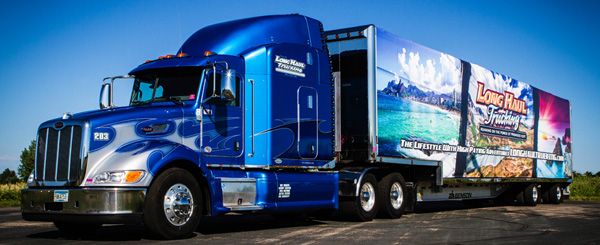 ALBERTVILLE, MN (Dec 9, 2013) – Long Haul Trucking is pleased to announce that the company has established an Employee Stock Ownership Plan (ESOP) for its employees effective January 1st. An ESOP is a qualified retirement plan that will invest in the common stock of the company and provide eligible employees with an ownership interest in Long Haul.
John Daniels started Long Haul in 1986, and over the years it has grown and prospered because of the hard work and dedication of its employees. After countless offers from outside interests John felt his current staff was the best direction for the company's success and made the decision to turn the company into an ESOP and reward the employees that helped make Long Haul what it is today. In 27 years, Long Haul has grown from 2 trucks to 280 trucks and 140 employees. The dedication and hard work of these employees has allowed Long Haul to maintain excellent relationships with the most elite shippers in the country.
John Daniels believes that the ESOP presents a great opportunity for his employees to acquire an ownership interest in Long Haul Trucking. The success of the company depends, in large part, upon the efforts of its employees, and Long Haul and John Daniels are delighted that the employees will now be afforded the opportunity to share in its ownership.
Long Haul Trucking
Long Haul Trucking is situated just outside of Minneapolis, in Albertville, Minnesota, the Long Haul Companies general offices are not more than 40 hours in any direction from all major United States shipping points. And, most cities are considerably closer to our fleet headquarters. We hold 48 United States ICC Common Carrier, Contract Carrier licensed, bonded broker authorities. Authority certificates in both Ontario and Quebec, Canada
The Long Haul Companies standard is to get shipments delivered in the same condition as they were picked up. Few carriers can make this claim.
For More Information:
John Daniels: jd@longhaultrucking.test
Tiffani Steinke: tiffanis@longhaultrucking.test