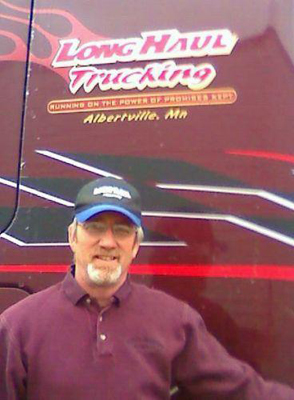 With a sleeping bag, warm clothes, matches and candles stashed in the back of their van, Canadians Thomas and Mary Lynne Fischer thought they were prepared for the tail end of their cross-country trip back home.
But a terrifying experience on Interstate 29 in South Dakota overnight Wednesday proved them "sorely mistaken," Mary Lynne said Friday in a phone interview from her home in Winnipeg, Manitoba.
The two recently retired educators, both 59, left Oklahoma early Wednesday on the second leg of their trek home from a bicycling vacation in Arizona. As the day turned into "a night so clear and beautiful," they decided to aim for Fargo, N.D., Mary Lynne said.
Then, just outside Summit, S.D., "all of a sudden, boom — there was dense fog and blowing snow," she said. A ground blizzard had created a complete and deadly whiteout. The couple pulled off the highway at Exit 213, not far from the Minnesota border.
For the next four hours, the Fischers waited as 50-mile-per-hour wind gusts rocked their van, gas nearly emptied from their tank and vents let in more snow and cold than heat.
They lit a candle. And waited some more.
"There were groups of vehicles a mile ahead of us and a half mile behind, but we couldn't get to them" or to a rest stop up the road, Mary Lynne said.
Frostbite loomed, and their fear grew.
At about 1 a.m., a semi happened up the same exit ramp. What followed was "a situation of heroic proportions," Mary Lynne later wrote.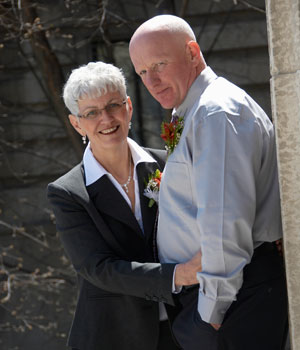 The wind had gotten to semi driver John Crozman, too, despite the fact that he was driving an 80,000-pound truck. High in his cab, he could see pretty well, but he worried that a car might rear-end him. Drifts on the ramp blocked his path, so he parked.
He sat for a bit. Then he noticed a light flickering in a lone vehicle nearby. He pulled on his snowmobile suit and braved the wind.
"We were near hypothermic when we saw a gentleman struggling through the snow and wind to check on us," Mary Lynne said. "When we opened our door to him, we were shivering uncontrollably and terribly frightened."
Crozman, reached by phone Friday, said, "They were glad to see me, I know that." The 51-year-old from Blackhawk, S.D., brought them into his "nice and roasty, toasty" truck. He managed to drive to a truckstop a few miles south where the three drank coffee and talked.
"They reminded me of a couple teenagers," he said. "They had only been married three years, lost their spouses to cancer."
In a heartfelt e-mail to Crozman's trucking company, Long Haul Trucking in Albertville, Minn., Mary Lynne wrote that Crozman saved their lives.
"He not only escorted us into the truck stop and made sure we had hot coffee, but put us up in his warm vehicle for the night, giving up his bed to us," she wrote. The next morning, he helped them get their car back on the road.
Crozman, a truck driver for three decades, called it "no big deal. There were no motels, and they had to sleep somewhere."
The Fischers' vehicle was one of up to 200 stranded along a 17-mile stretch of I-29 that night, said Patrick Culhane, Codington County search and rescue commander. His 10-person team transported dozens of people to safety using a snowcat, which looks like a tank.
No injuries were reported, but "it was very, very bad, and could have been a whole lot worse," he said.
No one knows that better than the Fischers. Crozman "is our hero, and we will never forget what he did for us on that frigid night on I-29," Mary Lynne wrote.
Glad to do it, said Crozman, adding with a laugh: "They're my new friends from the great white north. Eh?"